Politicians question 'Global Britain' policy
Share - WeChat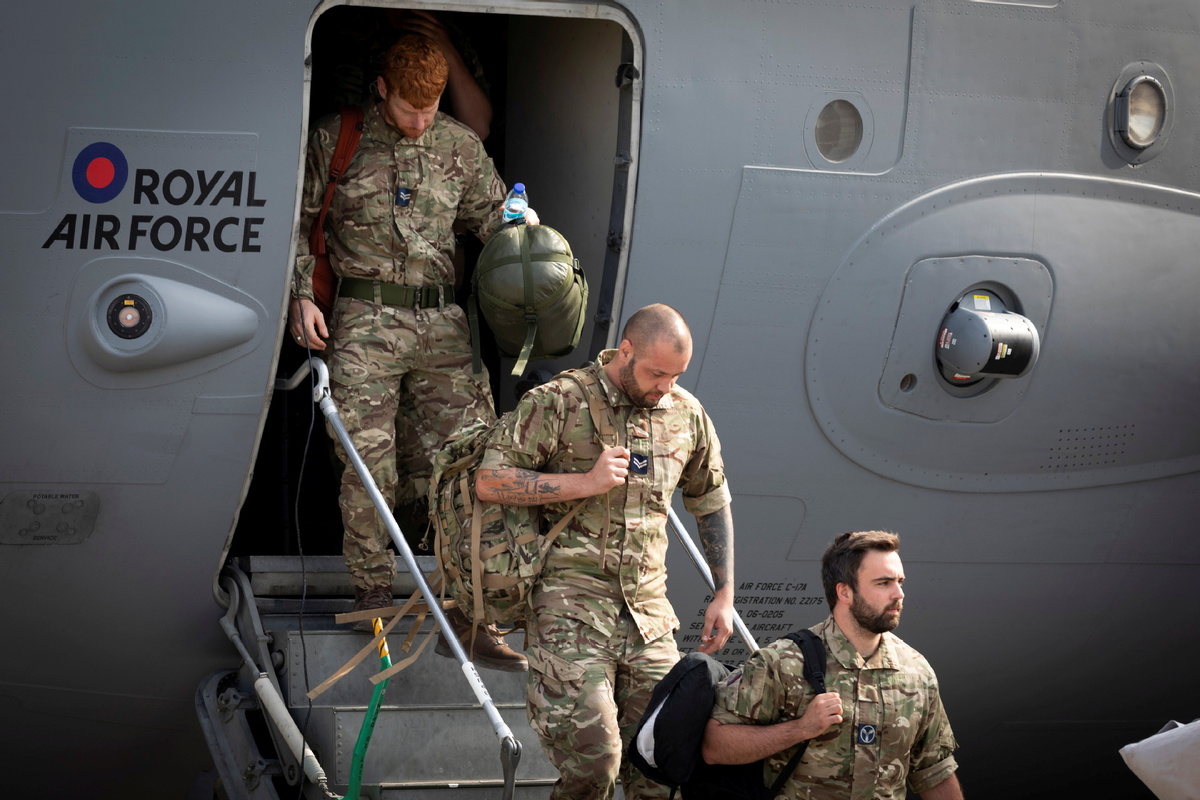 Political infighting within Britain's Conservative Party has intensified following the Afghanistan evacuation effort, which the United Kingdom government has said rescued 15,000 people in two weeks.
The last British troops were pulled out of Afghanistan on Saturday. And the United States forces departed on Monday, after a 20-year military presence in the country.
The UK's place in the world and the government's "Global Britain" policy is under scrutiny, with some backbench members of Parliament saying the chaotic manner of the withdrawal shows the country's foreign strategy is too closely linked to the US.
Among the strongest critics is Tobias Ellwood, the Conservative chair of the House of Commons defense committee, who has said Britain must free itself from "American thinking".
"We should be clear that Britain's leverage is negligible as an individual country following our senseless departure," Ellwood was quoted as saying in the Financial Times on Tuesday.
"Threats of holding back aid funding or introducing sanctions will mean little to the Taliban and only hurt those Afghans in dire need. The only means of influence we now have is if we pool efforts together with the international community."
Ellwood suggested that it was time for the UK to consider "other alliances and coalitions".
"This has to be a soul-searching moment for the party," he said. "We lack resolve and appetite to step forward. Traditionally, if the Americans had hesitated, we would have filled that vacuum. We should not be tied to the political thinking of the White House."
The UK must work with countries that have an influence on the Taliban, including China, Iran, Russia and Pakistan, suggested Peter Ricketts, the UK's former national security adviser, according to the Financial Times report.
Another Conservative member of Parliament told the finance paper that foreign policy needed to be reevaluated because it was "not geared "toward dealing with a crisis.
"This has been a massive reality check for the UK," said the backbench MP. "All this Global Britain energy and what does this say about what it means?"
The MP added that the nature of the Foreign Office "has been very risk-averse."
Britain's foreign secretary, Dominic Raab, is this week taking part in diplomatic talks with G7 counterparts and NATO that are focused on securing safe passage for eligible Afghans out of the country, and on ensuring the nation does not become a base for terrorist groups again.
The UK needs to work with other nations to exercise a "moderating influence" on the Taliban, Raab told BBC Breakfast on Tuesday.
He insisted that "no department has performed better than the Foreign Office and anyone trying to suggest otherwise" either lacked "credibility" or had been "peripheral" to events-and "should be focused on the job at hand".
He added that the next "challenge" was to face Afghanistan's "new reality ... and come up with a plan that reflects it".