Laser televisions making their mark at home, abroad on technology surge
Share - WeChat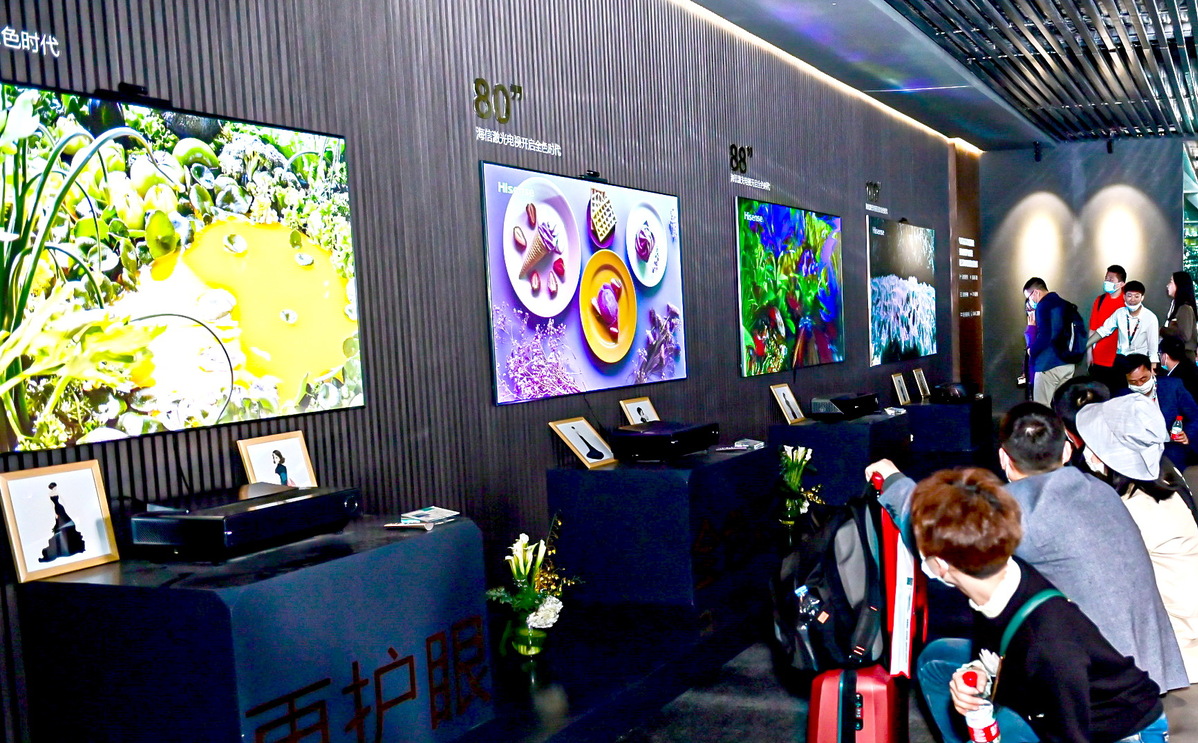 China is at the forefront of the state-of-the-art laser TV sector, which is poised to drive transformation and upgrading of the traditional TV industry, and has made breakthroughs in core technology and components in laser displays.
A laser TV can display extra-large images with better picture quality by utilizing laser display technology, including laser projection-a technology combining a laser light source and full-frame projection.
According to Beijing-based consultancy All View Cloud, the average compound annual growth rate of laser TV sales in China reached 213.8 percent from 2015 to 2020, and sales are expected to surpass 1 million units in 2022.
Chinese consumer electronics and home appliance company Hisense Group has invested heavily and aims to lead innovation in laser display technology.
The company launched its latest TriChroma laser TVs, with screen sizes ranging from 75 inches to 100 inches, and its brightness, color spectrum and immersion experience all significantly improved, as seen at the virtual Consumer Electronics Show in January.
Hisense has applied for 1,366 global patents in the laser TV sector and aims to propel the evolution of the industry by sharing patents, technologies and intellectual property rights within five years.
Overseas sales of Hisense laser TVs increased 288 percent year-on-year in 2020, with great performance in 17 countries around the world, including the United States, Mexico and Australia.
Simultaneously, the entry of Samsung, Sony, LG and other global leading manufacturers has also brought new vitality to this new display technology dominated by China.
Statistics from market research firm Omdia showed that Hisense laser TVs accounted for 53 percent of global sales in 2020, with Chinese brands including Hisense, Changhong and Xiaomi accounting for nearly 60 percent.
Yu Zhitao, president of Hisense Visual Technology, said the company will focus on the core competencies of picture quality and applications, and expand the function of large screens as the center of smart homes by allowing their applications to be a home-based social platform. Yu added more laser TV models will be released this year.
As the official sponsor of UEFA Euro 2020, Hisense has also seen its laser TV exports rise by more than ten times in the first half compared with the same period last year.
Xu Zuyan, an academician of the Chinese Academy of Engineering, said a display with a laser light source points to the future development direction of display technology, which features ultrahigh definition and a large color spectrum, and will become mainstream in the next generation of the display industry.
TV sales reached 44.5 million units nationwide last year, down 9.1 percent compared with the previous year, while related sales revenue stood at 120.9 billion yuan ($18.6 billion), a decline of 11.7 percent year-on-year, due to the COVID-19 pandemic, according to a report released by market consultancy AVC.
The report also said sales of laser TVs increased by 64.5 percent in 2020 year-on-year. In addition, 65-inch and larger TVs accounted for 25 percent of all TV products sold in 2020, an increase of 6.5 percent year-on-year.
Lin Zhi, chief analyst at market consultancy Wit Display, said average prices of 75-inch laser TVs will be lower than those of LCD TVs of the same size, within three to five years, which will have a huge impact on the large-sized LCD TV market.
According to a report from market research institute GfK, average prices of laser TVs via online sales channels have decreased from around 45,000 yuan in 2018 to some 15,000 yuan. In the first half of this year, the average price of laser TVs online was 15,000 yuan, and it will continue to fall.
Dong Min, an independent researcher focusing on the home appliances sector, said the traditional TV market is almost saturated and companies need to seek new growth points.
"New display technologies such as OLED TVs, laser TVs and curved screen TVs are all good choices and in line with ongoing consumption upgrades," Dong said.