After 70 years, remains of war heroes return
Share - WeChat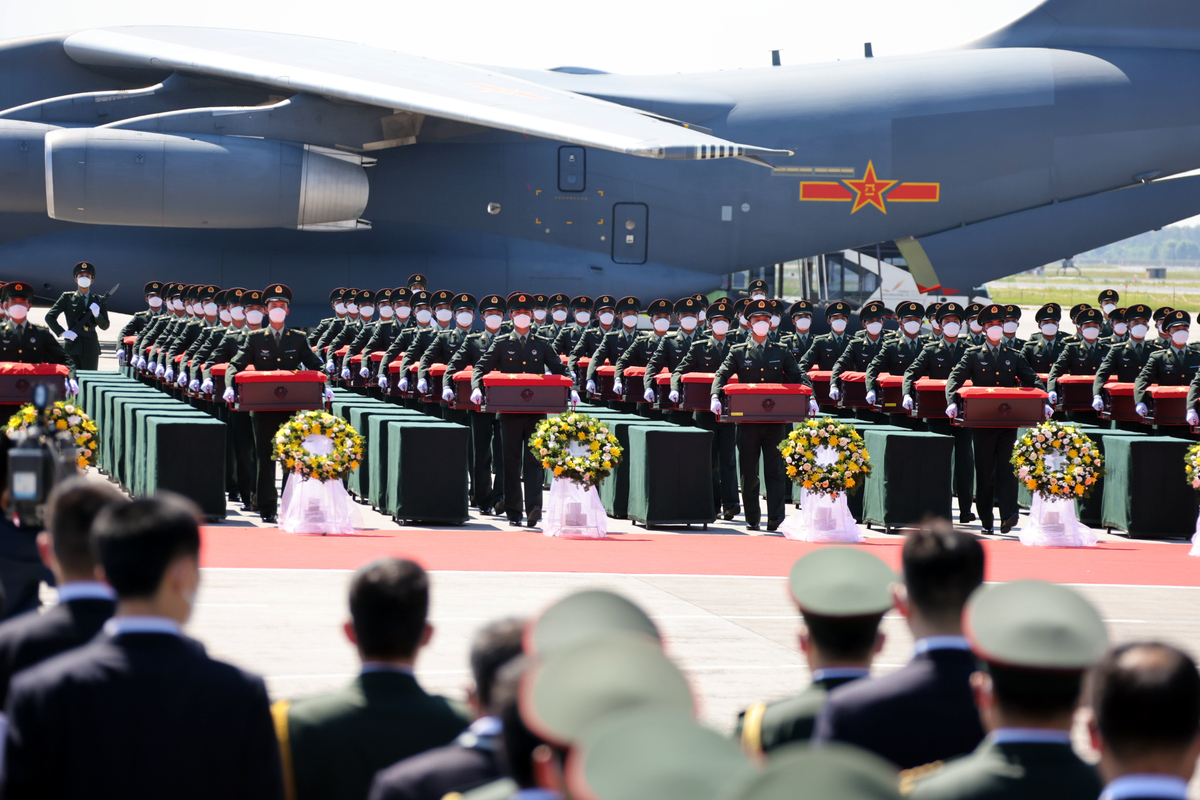 The remains of 109 Chinese soldiers killed during the War to Resist US Aggression and Aid Korea (1950-53) returned from South Korea on a Chinese military transport plane to Shenyang, capital of Northeast China's Liaoning province, on Thursday morning.
As the People's Liberation Army Air Force's Y-20 strategic airlift plane entered national airspace, two fighter jets formed an escort to honor the fallen warriors.
After landing at Shenyang Taoxian International Airport, the caskets containing remains and personal items were removed from the plane and displayed in front of a large crowd of government officials, military personnel, family members and members of the public for a brief remembrance ritual.
Escorted by a police motorcade, the caskets were then transported by PLA trucks to the Chinese People's Volunteer Army Martyrs' Cemetery in Shenyang. A burial ceremony will be held in the cemetery on Friday.
Earlier on Thursday morning, a handover ceremony for the remains was held at the Incheon International Airport in South Korea.
Dressed in ceremonial uniforms, PLA honor guards received the caskets from their South Korean counterparts. Xing Haiming, Chinese ambassador to South Korea, placed the national flag on each of the caskets. Chinese delegation members bowed deeply in front of the caskets to show their respect and remembrance.
Chang Zhengguo, China's Vice-Minister of Veterans Affairs, said at the event that 2021 marks the eighth consecutive year the remains of Chinese soldiers have been returned from South Korea.
Personnel from both sides involved in the excavation, identification and handover operations have had to work harder in the last two years than previously because of the ongoing COVID-19 pandemic, he noted.
The vice-minister said China is grateful to authorities and workers in South Korea for their efforts and will deepen cooperation and communication to bring the remains of other Chinese soldiers back home.
A total of 109 fallen soldiers and some 1,226 articles belonging to them, excavated from six regions in South Korea between 2019 and 2020, were laid to rest in caskets in a ceremony on Wednesday morning in Incheon.
Under the command of by Peng Dehuai, 2.9 million Chinese People's Volunteer Army soldiers fought in the War to Resist US Aggression and Aid Korea, and nearly 200,000 died in combat.
South Korea began to recover the remains of fallen soldiers in 2000. A special unit was established by the South Korean army in 2003 to take charge of the process.
Between 2014 and 2020, South Korea returned the remains of 716 Chinese soldiers.
In another development, China's Ministry of Veterans Affairs announced on Wednesday that its local branches have identified four of the 117 martyrs returned in September 2020, and have managed to contact their family members.