S Korean cosmetics firm thrives in China
Share - WeChat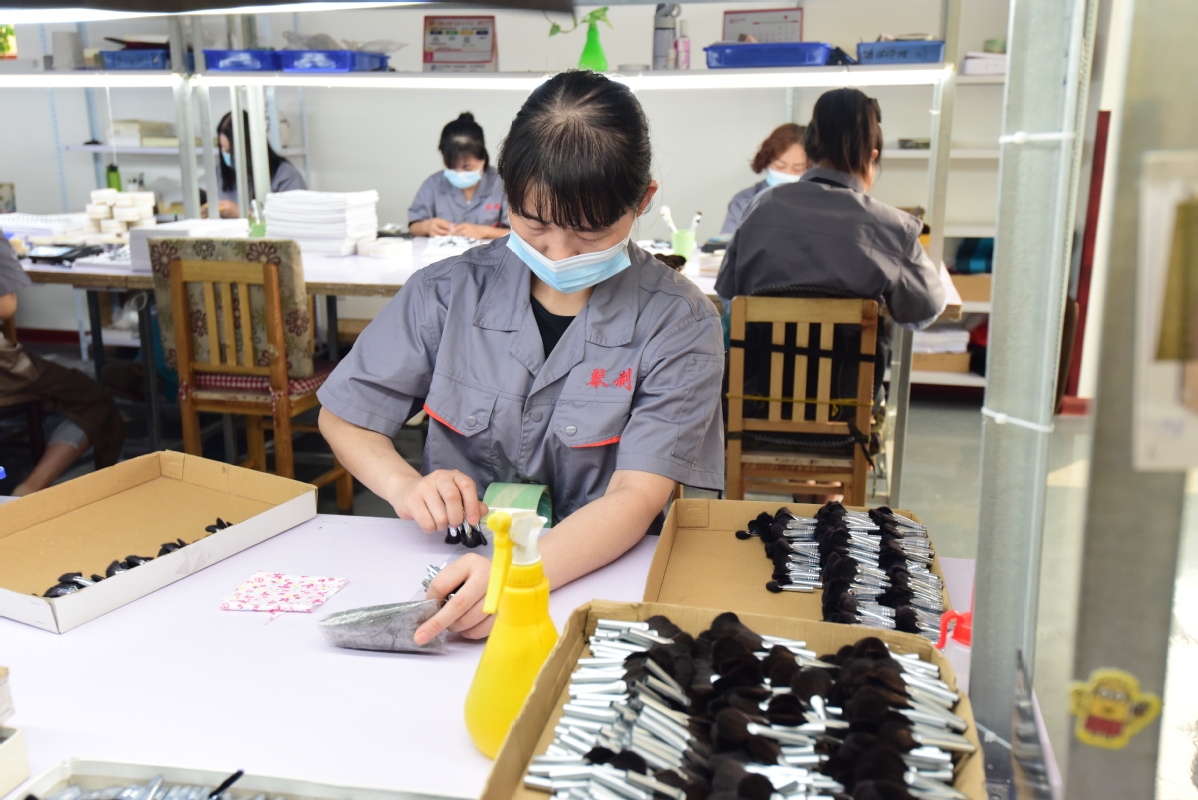 After building up momentum in China for 26 years, a South Korean manufacturer of makeup brushes is planning to expand its business even further, thanks to favorable policies it enjoys in North China.
Based in Qingxian county in Cangzhou, Hebei province, Cangzhou Yongcheng Cosmetic Co will develop its own brand and aims to promote it globally, hoping to become one of the world's leading brands one day, according to its General Manager Bae Sungwon, who is from South Korea.
The company has made high-end makeup brushes for over two decades, but the products were made for brands in other countries, including the United States and Japan. "We take orders from overseas cosmetic companies and make products for their brands," Bae said.
Bae, 48, came to Qingxian in 1998, following his father who invested in a factory there and employed locals to produce makeup brushes. Their company is one of the dozens of South Korean companies that came to Qingxian in the 1990s.
"Back then, the county had developed a mature industry of making woolen sweaters, which helped nurtured a bunch of skilled workers familiar with wool techniques that are needed for making brush tips," Bae said, adding that lower-cost labor and a wealth of raw material supplies were also among the reasons they came to the county, which is about 170 kilometers southeast of Beijing and 80 km southwest of Tianjin.
In addition, many places in China, including Qingxian, rolled out a series of measures at the time to support foreign companies' development, such as preferential taxes, he said.
However, Bae and his company encountered some difficulties at the beginning. "I couldn't say or understand a single Chinese word, and was unaccustomed to the culture," he recalled. "But compared with other countries, China has an advantage for us because people from China's Korean ethnic group could help us translate."
More challenging was that overseas customers did not welcome makeup brushes made in China back then, because the industry's development had just started in the country. "We had to send products to South Korea first and exported them after some final touches were made there," Bae said.
Fortunately, the situation changed after about a decade when customers began to realize that a great amount of makeup brushes of high quality were actually being made in China. "Exporting became easier for us and actually very convenient because Qingxian is close to some major ports in North China, including Tianjin," he said.
In the 2010s, some skilled workers who had worked at South Korean companies in Qingxian started to register local brands and have seen fruitful results, thanks to their experience and China's high-flying e-commerce economy.
"It's very natural that some would like to do their own business after gaining skills and knowledge about makeup brushes," Bae said, adding that there is little competition between foreign-invested companies and local ones because they target different markets-local brands usually sell domestically while foreign counterparts eye overseas markets.
While Bae's company is still based in Qingxian, other South Korean companies have withdrawn or moved elsewhere due to increasing costs for labor and raw materials. "We will stay because we still have stable customers and Qingxian has nurtured a whole industry chain, so it's easy for us to get raw materials and skilled employees."