More cooperation urged in UN peacekeeping
Share - WeChat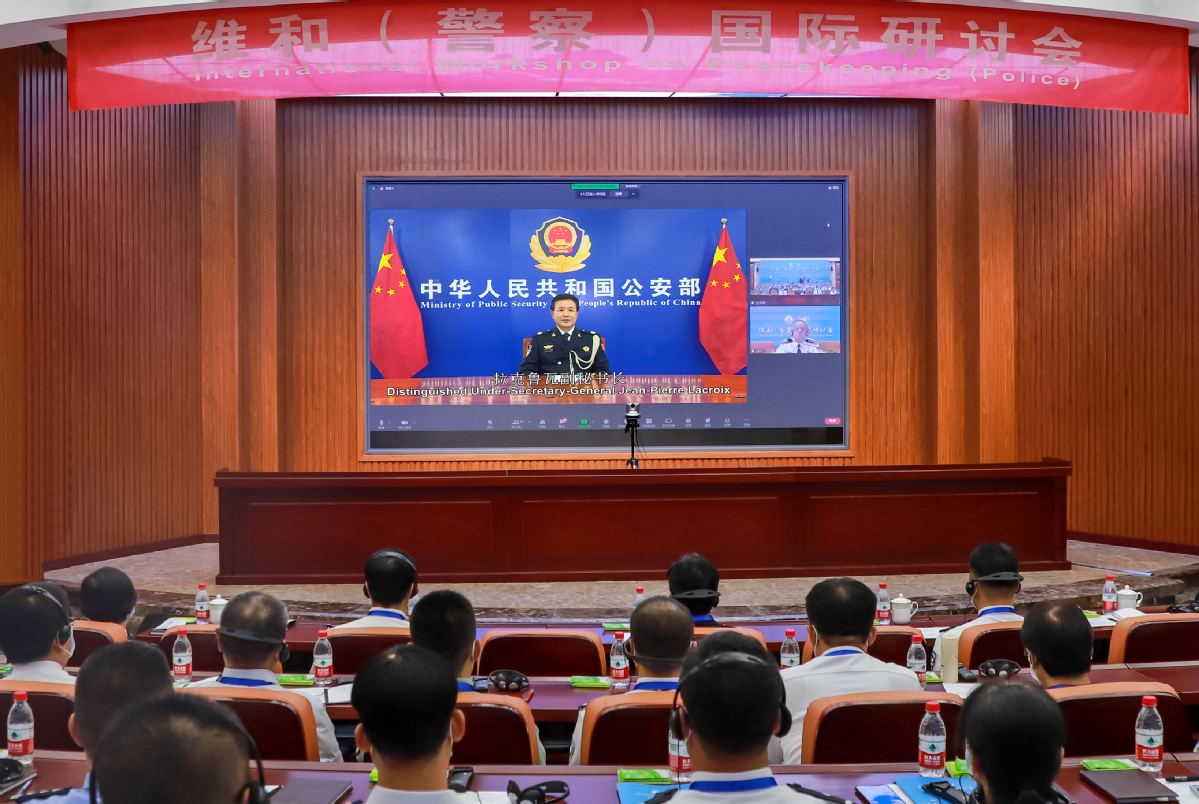 Chinese executive vice-minister of Public Security Wang Xiaohong called for enhancing cooperation in peacekeeping among the member countries of the United Nations and taking effective measures to reduce risks for peacekeeping operations in an international peacekeeping workshop.
The two-day workshop, which ran from Wednesday to Thursday in Langfang of Hebei province, was organized by the Ministry of Public Security and co-organized by the China People's Police University and China Peacekeeping Police Training Center, focusing on the "trend, challenges and way forward" for peacekeeping operations in the new decade.
The current international and regional security situation is grim and complex. The global pandemic situation is on the rebound, and people in conflict areas have greater expectations for the UN and are longing for peace, Wang said.
"World peace and development require the UN to play a greater role, and more importantly, the extensive participation and practical cooperation of all countries," he said.
Jean-Pierre Lacroix, UN under-secretary-general for Peace Operations, appreciated the Chinese government for organizing the workshop and its continued commitment and valuable contributions to UN peacekeeping.
The peacekeeping missions operate in increasingly diverse and challenging environments, and the officers often take complex and multidimensional mandates under unpredictable and fluid political and security circumstances, Lacroix said, adding that the COVID-19 pandemic has made the environment more complex.
Wang called for deepening exchanges and cooperation on peacekeeping and police affairs among the member countries of the UN and strengthening coordination with stakeholders to jointly maintain peace and stability in the mission areas.
The member countries of the UN should formulate practical measures, strengthen information collection and increase personnel, equipment and budget support, to improve medical conditions and epidemic prevention capabilities in the mission areas and jointly reduce risks in peacekeeping operations, he said.
Besides, the police-contributing countries should strengthen the targeted education and training of peacekeeping police and constantly improve their ability to cope with complex environments, Wang said, adding that they should help the host countries to realize independent development.
China has become the second-largest country providing funds to peacekeeping operations and the largest contributor of troops and police forces among the permanent members of the UN Security Council. China has deployed more than 2,600 Chinese peacekeeping police officers in 11 mission areas on four continents since 2000, according to Wang.