Friendships keep Beijing streetwear pioneer tied to 'incredible' China
Share - WeChat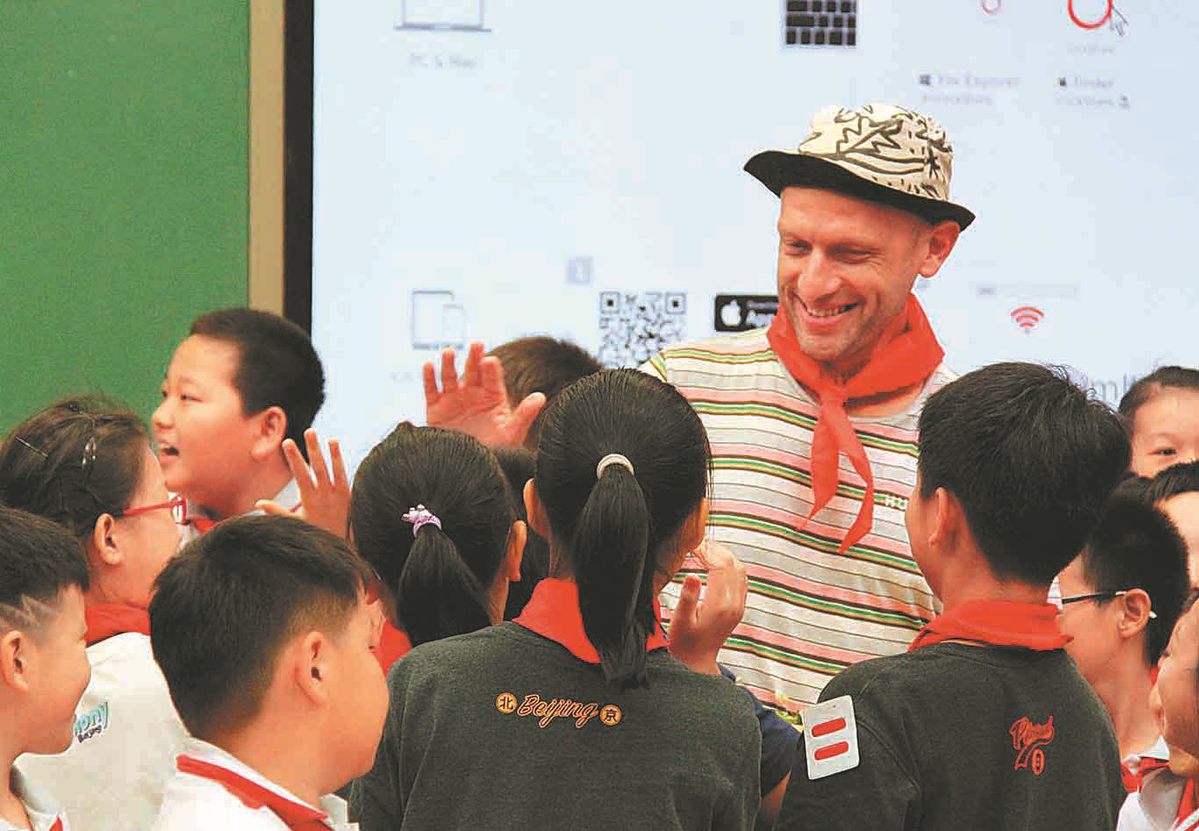 After living in China for close to three decades, Dominic Johnson-Hill said he is still learning how little he knows about the country every day.
However, when Johnson-Hill, the owner of Plastered 8 T-Shirts, a popular T-shirt retailer, arrived in Beijing as a backpacker in 1993, he wasn't planning to stay for too long.
"I cannot say that I liked Beijing initially," he said. "I couldn't speak Chinese, didn't really understand the culture and found it hard to settle in."
However, he was offered quite a lot of job opportunities shortly after his arrival, and he decided to try his luck in the capital as he wasn't in a hurry to return home to the United Kingdom.
That decision eventually paid off massively, as it would lead him to become an icon of Beijing's pop culture after founding one of China's first streetwear clothing brands.
"I thought I would only stay for two or three weeks. I didn't expect I would still be here 28 years later," he said jokingly.
Johnson-Hill said his early jobs enabled him to travel extensively across China, and he very quickly developed a fondness for the people and culture.
He fondly recalled a job he had as a translator in the Inner Mongolia autonomous region, where he would ride a horse to work. He founded his first business, a market research company, in 1995, which allowed him to travel frequently to northeastern and western China.
"I always loved adventure. I found life here just incredible," he said. "China is one of those places to me that was very hard to fall in love with. But once I fell in love with it, it would be impossible to fall out of love with it."
In the end, Johnson-Hill said, it was people and the friendships he developed with local residents over the years that kept him in the country for so long.
"I have employees who have been with me for 15 or 16 years," he said. "These people, when you are away from your family in the UK, really become your family. So what kept me here are adventure, opportunity and above all friendship. These friends are now considered family."
The Englishman said an impulse to create some cool elements for the capital drove him to create a fashion brand, even though he had never had any experience in design or clothing.
"I just one day thought that Beijing did not have any cool T-shirts, and it must be an opportunity," he said. "So I thought why not design some T-shirts, with some images that represent how I see Beijing-cool objects and cool things."
The idea led him to open a shop in Nanluoguxiang, an alley in the capital's Dongcheng district, in 2006, before the neighborhood became one of Beijing's top tourist attractions.
"I was the only creative shop on the street, and I never expected the street to explode into what it is now," he said.
He added that not being able to read Chinese, dealing with the legal side and understanding contracts only posed a small challenge.
"The greatest challenge was finding good talent," he said, adding that in the early days he really struggled to find people to run his stores.
"But the solution was right under my nose. I started hiring my neighbors, the retired women from my neighborhood. They still run my stores, and are now an incredible asset," he said.
Another challenge was intellectual property rights protection, he said. As his brand became more popular, more people started to copy his designs and sold them online, even in some Western nations.
"But the IPR protection has certainly improved a lot here. We are now able to settle with these people in and out of court," he said.
Johnson-Hill said he plans to continue to focus on creating top artwork, and is not interested in building his brand into a big venture.
"I like small business. I like the best, not the biggest, and I will just continue the journey," he said.